Meet Our Design Experts
Our Kitchen Designers have helped thousands of homeowners get their dream kitchen and contractors get the job completed properly.
Cathy has been working as a kitchen designer for 20 years. She's worked on commercial buildings, multi-units and residential homes. And Cathy has worked on TV remodeling shows such as OWN's Home Made Simple and Love It or List It. She prides herself on working closely with clients, giving the best options available and being honest. Cathy's experience includes extensive knowledge on the 20/20 program and the MOZAIK graphic design program.  She welcomes any and all clients who speak spanish. Bienvenidos a todos ! 
After spending 16 years pursuing her first passion, Robin decided to pursue her second. She attended and graduated with an A.A.S degree in interior design. Acclaimed for precision in design for successful projects and award-winning spaces, a National NKBA Student Award brought Robin to the kitchen and bath industry. She was affiliated with American Society of Interior Designers from 2009-2016, and has been a member and held committee positions with the National Kitchen and Bath Association since 2011.
Avi's kitchen design background comes from his experience in the construction industry. He is certified in 20/20 design software as well as Mozaik kitchen design software. His specialty for 25 years, is in building houses. His diverse work experience in building homes, ranges from kitchens, furniture, and bathroom interiors to name a few. This makes Avi's visual design ability dynamic and unique. He has experience traveling all over the world designing kitchens for a variety of audiences. And he has 10 years of hands-on experience with MTD. Avi is fluent in Hebrew and English.
Catherine has been a Modern Kitchen Designer for more than 10 years. She has a BA in Interior Architecture and a well-trained eye for quality and craftsmanship, which has made her accomplish many achievements working with Italian and German kitchen companies.  She continues to be recognized for her timeless style and design. Her passion is to get to know her clients and their lifestyles to create a unique design for their home interior. Catherine is fluent in English and is able to greet her clients in English, French, and Arabic.
Rhochie is an architect from the Philippines, she received her Graduate Bachelor of Science in Architecture MIT – Philippines, a Masters in Urban Planning –  A certificate in interior design and a certificate in Autocad. With another Certificate in Revit Architecture trainings from Italy and Germany for interior design. She is one of MTD's senior design experts with versatile interior design skills in kitchen decor and lighting. She has worked at MTD Kitchen for over 3 years. Rhochie is also fluent in English and Tagalog.
Yuval's educational background is with two Bachelor Degrees. One in Education and one in Interior Design. His specialty for 25 years, is in building trade shows. His diverse work experience in building shows, ranges from automobiles, furniture, and museums to name a few. This makes Yuval's visual design ability diverse and unique. He has experience traveling all over the world designing shows for a variety of audiences. And he has eight years of hands-on experience with MTD. Yuval is fluent in Hebrew and English.
I have many decades of kitchen design experience and was lucky enough to be able to attend some of the best design schools in Italy and Romania completing degrees in Interior Design and Wood Technology with a specialty in furniture design.  "When clients are looking to work with me on their kitchen design I want them to know the process will be completely relaxed and comfortable and that they can rely on me to achieve their ideas within their budget. I also speak English, French, Italian, and Romanian, my native country." -Mariana

MTD Kitchen is the premier kitchen design showroom that designs, manufactures and installs kitchen cabinetry.
We carry the latest in:
Semi custom and Custom cabinets
Quartz and granite countertops
Backsplashes
Kitchen Stove Vent Hoods
Stainless steel and farmhouse sinks
Cabinet handles and pulls
Kitchen cabinet accessories.
We Install
Kitchens
Bathrooms
Storage Rooms
Garages
Extra rooms
Guest Houses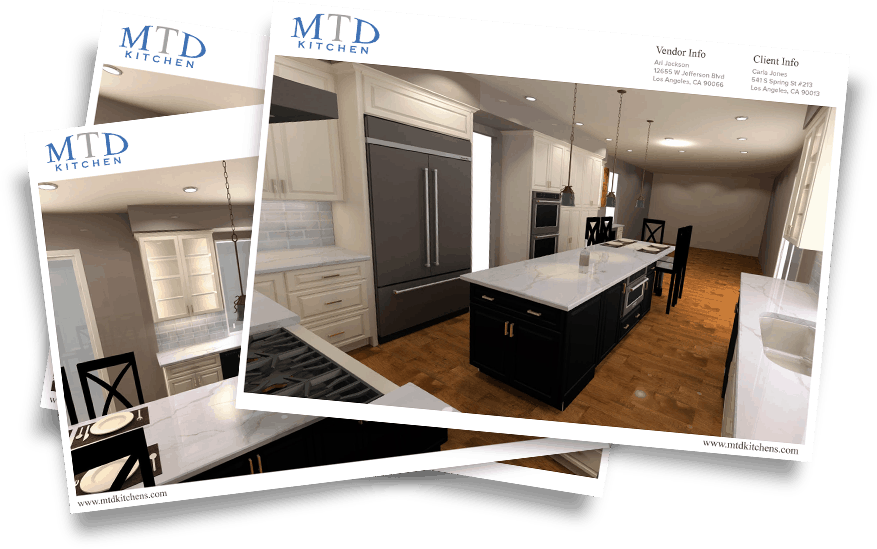 COMPLEMENTRY KITCHEN DESIGN
Not sure where to start? Our designers will create a 3D example of your kitchen.
One of our experienced designers will walk you through the entire remodel process and create a computer-generated 3D model of your dream kitchen; allowing you to see every cabinet, drawer and countertop in full color!
Eliminate hassles. Our app keeps you up to date on your remodel progress.
Eliminate the guessing game and enjoy the process of working with a professional team who values accountability and transparency.  Most contractors are spread thin with small teams, dragging the average installation out over two months. We use technology to keep our jobs on schedule and keep you informed on progress through instant update, photos, and calendars.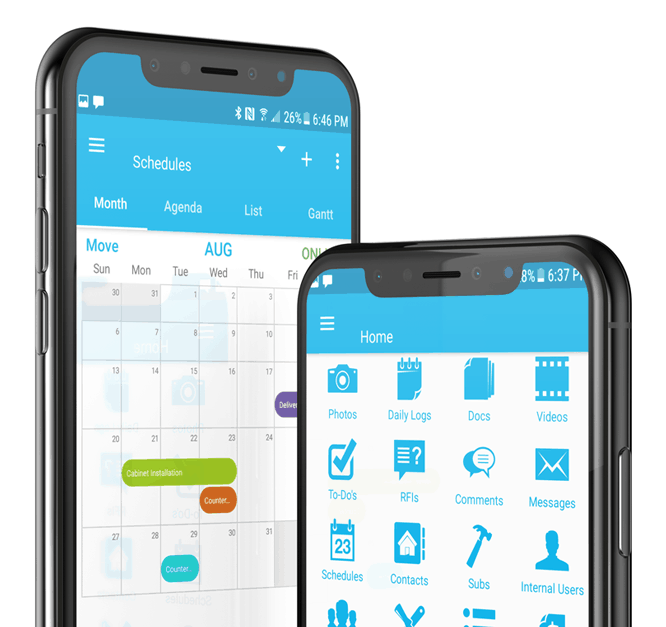 Customized Organization
Our in-house designers can create efficient storage with custom roll out trays, drawer organizers, pot racks, corner cabinetry, trash pull outs, and more. Don't worry, we'll utilize every inch of your kitchen.
Installation
Our installers arrive at your site with a minimum of 10+ years cabinetry experience. We equip each team with top of the line tools and training to ensure a timely and flawless installation every remodel, every time.
Quality Control
We conduct a final quality control walk-through by our own Field Supervisor to minimize errors. We also keep you in the loop and provide the transparency and accountability necessary to feel confident in our products and team.
Kitchen Remodel Checklist
Make your planning easier with a step-by-step kitchen remodeling checklist.
Save money, keep track of measurements, stay on your timeline with a detailed kitchen remodel checklist.
GET MY FREE 3D KITCHEN DESIGN
Schedule Your Kitchen Design
Make an appointment at our showroom for personalized design service.
Our kitchen designers will answer all of your questions and show you exactly what your kitchen can be. Schedule your design time.
Sign Up for your Free Design Consultation
Fill out our quick form and one of our talented designers will contact you.
They will provide a consultation based on your personal needs and plans - all for free.