MTD Kitchen is the premier kitchen design showroom that designs, manufactures and installs kitchen cabinetry. Call us to schedule an appointment (714) 640-6059
We carry the latest in:
Semi custom and Custom cabinets
Quartz and granite countertops
Backsplashes
Kitchen Stove Vent Hoods
Stainless steel and farmhouse sinks
Cabinet handles and pulls
Kitchen cabinet accessories.
We Install
Kitchens
Bathrooms
Storage Rooms
Garages
Extra rooms
Guest Houses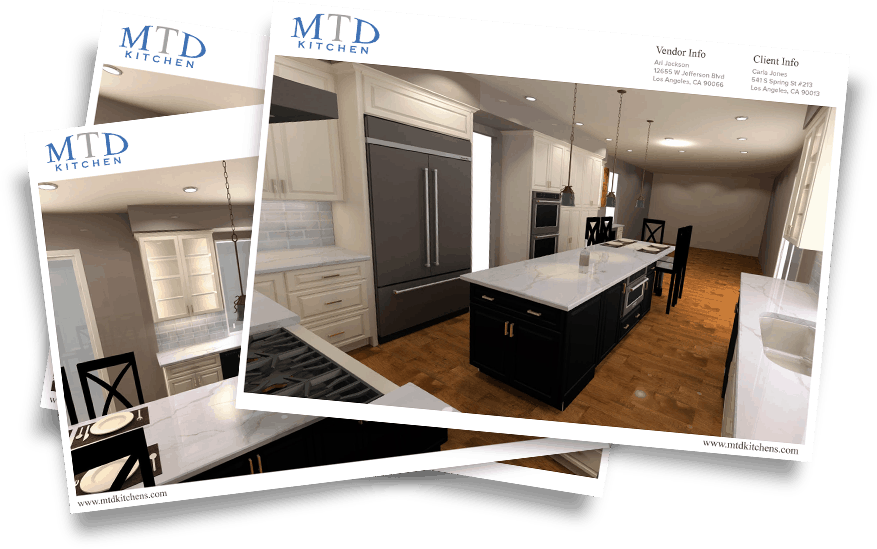 COMPLEMENTRY KITCHEN DESIGN
Not sure where to start? Our designers will create a 3D example of your kitchen.
One of our experienced designers will walk you through the entire remodel process and create a computer-generated 3D model of your dream kitchen; allowing you to see every cabinet, drawer and countertop in full color!
Eliminate hassles. Our app keeps you up to date on your remodel progress.
Eliminate the guessing game and enjoy the process of working with a professional team who values accountability and transparency.  Most contractors are spread thin with small teams, dragging the average installation out over two months. We use technology to keep our jobs on schedule and keep you informed on progress through instant update, photos, and calendars. 
Customized Organization
Our in-house designers can create efficient storage with custom roll out trays, drawer organizers, pot racks, corner cabinetry, trash pull outs, and more. Don't worry, we'll utilize every inch of your kitchen.
Installation
Our installers arrive at your site with a minimum of 10+ years cabinetry experience. We equip each team with top of the line tools and training to ensure a timely and flawless installation every remodel, every time.
Quality Control
We conduct a final quality control walk-through by our own Field Supervisor to minimize errors. We also keep you in the loop and provide the transparency and accountability necessary to feel confident in our products and team.
Our premier Orange County kitchen remodel showroom is ready to make your dream kitchen.
We love our products and stand by their quality, but we understand that some things are better seen in person than described in words. Whether you make an appointment to meet with a designer, or simply want to walk through our space at your own pace, we invite you to visit our showrooms to see our amazing selection of kitchen cabinets and accessories first hand.
ORANGE COUNTY SHOWROOM
1201 E Ball Rd. Anaheim, CA. 92805
(714) 640-6059
WHAT PEOPLE ARE SAYING ABOUT MTD
"Our counter tops and entire kitchen look expensive, but the price could not be beat!!"
SEE OUR REVIEWS
GET MY FREE 3D KITCHEN DESIGN
Schedule Your Kitchen Design
Make an appointment at our showroom for personalized design service.
Our kitchen designers will answer all of your questions and show you exactly what your kitchen can be. Schedule your design time.
Request A Free Design Consultation
Fill out our quick form and one of our talented designers will contact you. They will provide a consultation based on your personal needs and plans - all for free.