Shaker Cabinets Starting
There's nothing more important than manufacturing with the best quality materials.
We've partnered up with world renowned brands to bring you high quality building products including architectural grade plywood, wood veneers, laminates, acrylics, and composites.  We can also create efficient storage designs that include custom roll out trays, drawer organizers, pot storage, corner cabinetry, trash pull outs, and more. Don't worry, that's what we're here for, our designers will make sure to utilize every inch of your kitchen. We know what works and how to make it work for your space.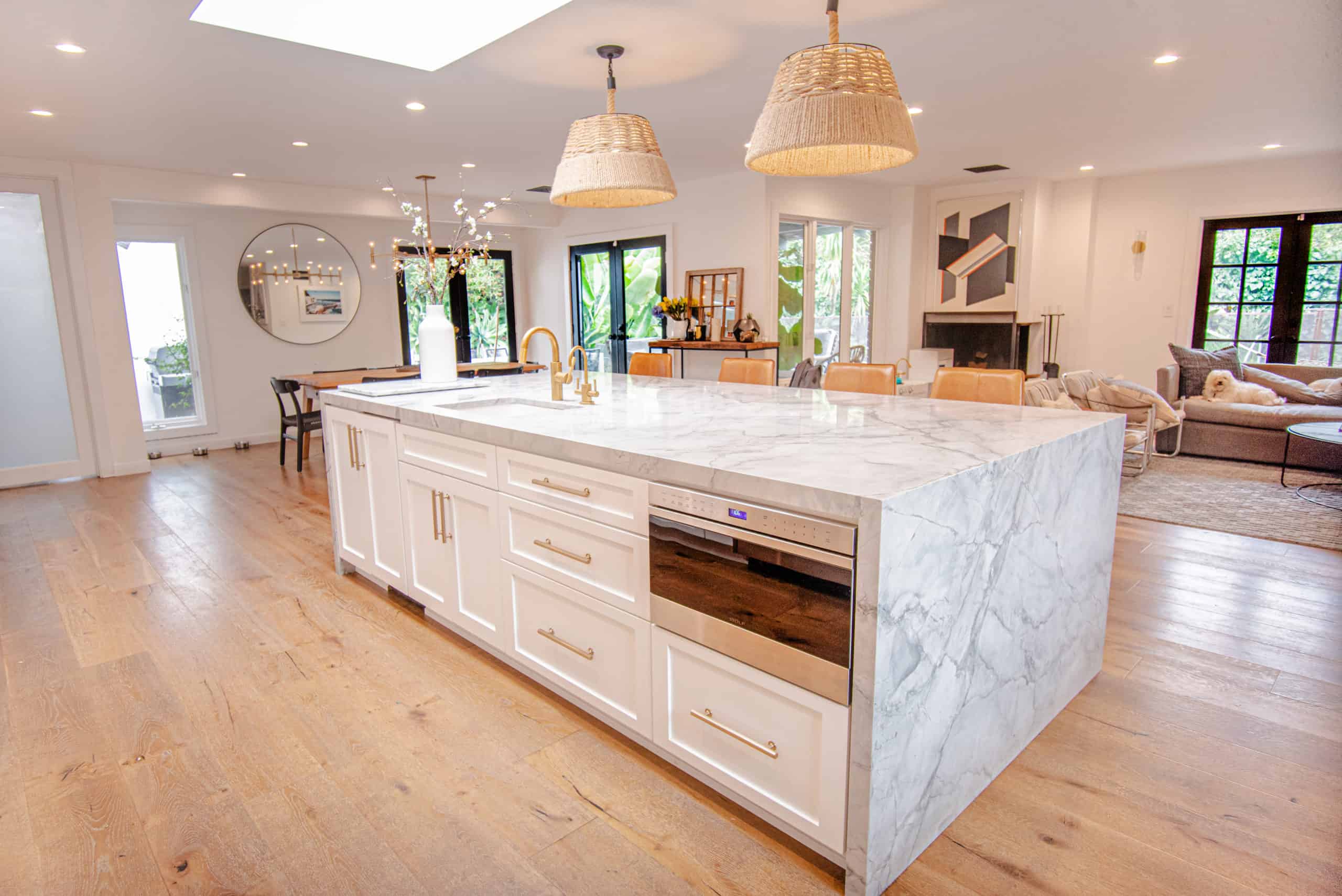 Custom Kitchen Cabinets
Pre-fab Cabinets
Countertops
Custom Closets
Laundry Room cabinets
Recreational Room cabinets
Garage Cabinets
Lobby Wall Paneling
Bathroom Cabinets
Semi CustomCabinets
Semi-custom cabinets are manufactured in America and stocked in our local warehouses ready for install with quick turnaround times. All cabinets have plywood construction with soft closing doors and drawers.
Fully CustomCabinets
Fully-custom cabinets are made one at a time in our local cabinet shop using high end Blum (Use Blum logo) hardware, paired with custom features and finishes. Anything you can imagine, we can create.
Wood TexturedCabinets
Highly durable material featuring a wide variety of textured surfaces that are thermally fused and heat stamped onto a CARB 2 compliant core.
High GlossCabinets
High gloss kitchens are vividly sharp and sleek. They're glamorous in all the right places without feeling cold or stark.  A brilliant center island in staggered heights accommodates the culinary master and dining enthusiasts.
Don't see exactly what you're looking for?
We love our products and stand by their quality, but we understand that some things are better seen in person than described in words. Whether you make an appointment to meet with a designer, or simply want to walk through our space at your own pace, we invite you to visit our showrooms to see our amazing selection of kitchen cabinets and accessories first hand.  Our inventory is always expanding! Call us now for more information.  
NORTH HOLLYWOOD SHOWROOM
13213 Sherman Way North Hollywood, CA 91605
818-477-1654
GET MY FREE 3D KITCHEN DESIGN
Schedule Your Kitchen Design
Make an appointment at our showroom for personalized design service.
Our kitchen designers will answer all of your questions and show you exactly what your kitchen can be. Schedule your design time.
Request A Free Design Consultation
Fill out our quick form and one of our talented designers will contact you. They will provide a consultation based on your personal needs and plans - all for free.