We Love Working With Home Contractors
Your projects will go so much easier with:
Discount Pricing for Volume Customers
Professional Design Services
Installation Support
Access to our Showrooms
We love working with Contractors.
Your projects will go so much easier with:
Discount Pricing for Volume Customers
Professional Design Services
Installation Support
Access to our Showrooms
WE'LL HELP YOU WIN MORE BIDS
White label services for Contractors. Our services make you look better.
That's why we offer discount pricing based on volume, 3D rendering service, installation support, and access to our showroom to enhance your client experience and streamline your business.
MTD has the resources necessary to guarantee a stress-free experience with your client.  We produce all our own building materials, and source only the finest hardware and finishings – keeping costs low and turn-around time lower. 
Our designers provide full-color 3D renderings – arming you with a clean and professional presentation package.  Our associates are fast, friendly and knowledgeable about all our products – so you always have an answer for your client. 
Want us to facilitate communication with the client directly? No problem. Unlike the big box stores, you will get hands-on service and support to ensure that the job is done efficiently and to the client's satisfaction.  Your customer is our customer, and we are here to provide outstanding service.
WE LOVE WORKING WITH CONTRACTORS
We design, manufacture, and install
Kitchen cabinets
Linen cabinets
Bath cabinets
Garage cabinets
Laundry Room cabinets
Recreational Room cabinets
Lobby Wall Paneling
Casework
Bathroom Vanity
WHAT PEOPLE ARE SAYING ABOUT MTD
"Our counter tops and entire kitchen look expensive, but the price could not be beat!!"
SEE OUR REVIEWS
Customized Organization
Our in-house designers can create efficient storage with custom roll out trays, drawer organizers, pot racks,  corner cabinetry, trash pull outs, and more.  Don't worry, we'll utilize every inch of your kitchen. 
Extra Design Layouts
Our designers will create 3D renderings for you to present to your client. We will also supply your plumber, electricians, and framers with blueprints to ensure everyone is on the same page about the project.
Delivery
Our in-house drivers deliver cabinets directly from our factory to your job site with quick processing times. We keep it timely and professional to retain your customers. 
Installation
Our installers arrive to your site with a minimum of 10+ years cabinetry experience. We equip each team with top of the line tools and training to ensure a timely and flawless installation every remodel,every time.
Support
Our project managers are assigned to your project, and they are responsible for for the efficiency of your project.  They are veterans in their field, and serve as your direct MTD Kitchen contact. 
Quality Control
We conduct a final quality control walk-through by our own Field Supervisor to minimize errors.  We also keep you in the loop and provide the transparency and accountability necessary to feel confident in our products and team.  
Eliminate hassles. Our app keeps you up to date on your remodel progress.
Eliminate the guessing game and enjoy the process of working with a professional team who values accountability and transparency.  Most contractors are spread thin with small teams, dragging the average installation out over two months. We use technology to keep our jobs on schedule and keep you informed on progress through instant updates, photos, and calendars.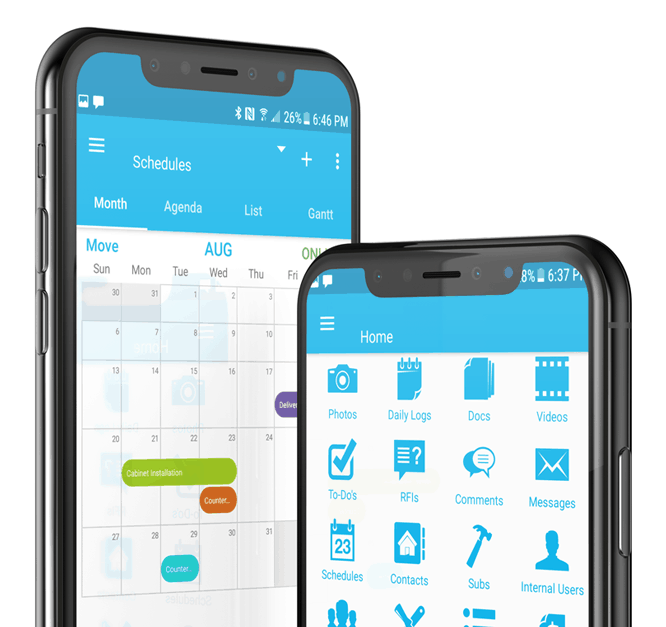 Kitchen Remodel Checklist
Make your planning easier with a step-by-step kitchen remodeling checklist.
Save money, keep track of measurements, stay on your timeline with a detailed kitchen remodel checklist.
GET MY FREE 3D KITCHEN DESIGN
Schedule Your Kitchen Design
Make an appointment at our showroom for personalized design service.
Our kitchen designers will answer all of your questions and show you exactly what your kitchen can be. Schedule your design time.
Request A Free Design Consultation
Fill out our quick form and one of our talented designers will contact you. They will provide a consultation based on your personal needs and plans - all for free.