If you have never remodeled a kitchen before the question of how long it will take will definitely have popped in your mind. If you are like most homeowners, you want to be done with it as soon as possible – you need the space to prepare and eat your meals and you also want contractors out from beneath your feet. The truth is that as much as most people would like to complete their kitchen remodeling in the in a day or two it usually takes much longer. You can do a weekend job if you are making a few changes and you have enough manpower, but when planning you should be prepared for it to take much longer.The first thing that will determine how long your kitchen remodel will take is how big it is. The bigger the kitchen the longer the remodel will take. You will have to renovate larger areas of floors, replace more cabinets, more sinks, paint more walls and so on. This, in fact, turns out to be the easy part. If you have not renovated your kitchen for more than a few years you will most likely have to tear up the plumbing and electric and install it all over again.
This is a long process and depending on where you live, the first obstacle that you may come across is permits. In many places homeowners need permits to be able to chance the electrical installations in their homes. If you are lucky and there isn't much bureaucracy this can take anything from a few hours to a few days but in some places, especially in the bigger cities it can sometimes take weeks to get a permit. The best way to go around this problem is to hire a contractor who can help you get all the documentation that you need. Because they are more familiar with the process they can shorten the duration significantly.
The other thing that causes delays when one is doing kitchen remodeling is the design and shopping itself. With so many kitchen designs available in the market today you may find that it is very hard to make up your mind as to the type of kitchen that you want. In fact, many homeowners find themselves going back to the drawing book over and over again before they are satisfied. Obtaining the fixtures and fittings may also not be very easy. If they are not available locally you may find that you have to ship them which adds to the duration of the remodel. MTD Kitchen's custom cabinets can help you the delayed causes on remodeling your Kitchen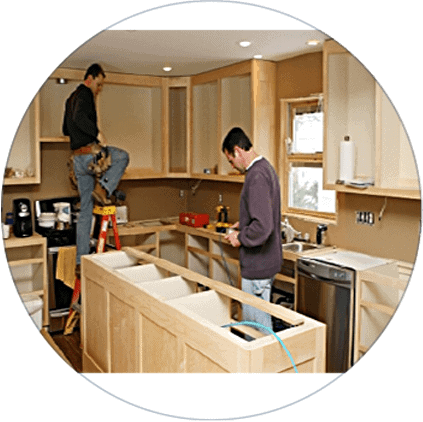 All these things are before you consider the amount of time that it will take the contractor to finish work. There are many accounts of homeowners having everything ready only to be delayed by slow contractors. Before you hire a contractor find out how long it will take him to finish the remodel and make sure that it is included in your contract. This way, you can hold them accountable if there are delays. A good contractor aims to get to site at around nine in the morning, take a one hour lunch break and then wind up the day at around four in the afternoon, after which they clean up for about half an hour before they leave. If you can have your contractor working around these hours your kitchen remodeling will move a lot faster. MTD Kitchen custom can help you in any style or color for your pre fab & granite counter tops.
Bottom, line, on average most kitchen remodels take about a month to complete even when everything goes according to plan. The most prudent thing to do is to allow for a t least 6 months for your kitchen remodeling to be completed. Contact 
MTD Kitchen in Los Angeles
o for good services